The Columbian Exchange Group
Regular price
Sale price
$8.88 USD
Unit price
per
Sale
Sold out
Product Ships January 27th
Would you like to learn to accurately read your natal chart and get a better grasp of yourself and your purpose? Are you interested in manifesting your best self and have more control over your life's affairs? If you answered "yes" to any of these questions, keep reading …..
You have already started your journey!
Natal charts are among the most important and sensitive pieces of information to conduct astrological analysis. And it is great that you are actively researching how to best read these charts.
With most resources, it will take you a while to acquire this skill but with this guide you can discover quick results.
You can relax, because help is on the way.
The way the information in this book is structured means that you will receive a direct and concise version of the knowledge that you are seeking.
Reading natal charts isn't easy. However, it's not as difficult as you might think if you know how to do it. The information that you need to do so is presented here.
Natal chart data is like a diagnosis. Misreading it will give you a wrong reading and that will do more harm to you than good.
For the sake of saving time, we won't explain every problem, here, as our goal is to have you begin as soon as you are ready.
Learning to read natal charts is a rigorous process.
If you can accurately read natal charts, you can almost certainly positively affect every other process within astrological analysis.
Natal chart reading is a process that has been developed as a science over centuries. So it will positively impact the bulk of your work if you do it the right way.
In How to Read Natal Chart Easily and Effectively, you'll discover:
An explanation of how the celestial mechanics work
A guide to formulating keywords for heavenly bodies 

Have all the information to begin using the workbook

 

Interpreting the chart in human readable format
Referencing the natal charts and filling the tables
….. And much more!
As a free bonus, you will receive practice worksheets with which you can interpret and write the reading from the natal charts.
An incorrect astrological reading is often the result of human error in interpreting and recording the natal chart wrongly. 
With the progress in astrological sciences, reading natal charts has been dramatically simplified so much that even a child can do it. 
Therefore, if you have never studied natal charts before, this guide will make it easy for you.
Share
View full details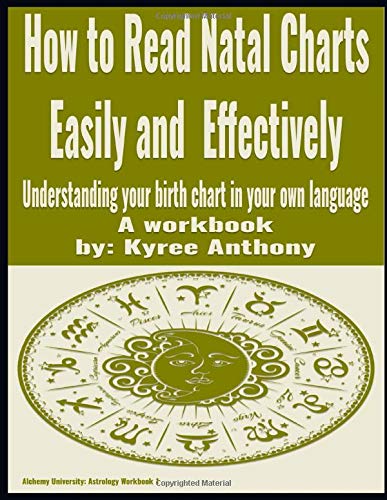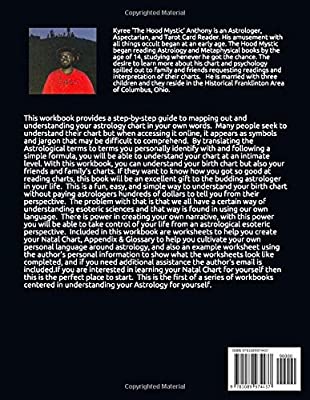 How to Understand Natal Charts
I've not dived in to this book, however, I know it will not disappoint. I am on my journey to a deeper understanding of myself and the planet I live on and Kyree is always assisting us to know thyself. When he says he cares about our spiritual development he actually does! Thanks Hood!
The Cherry On Top!
I am so glad that I purchased this workbook to pair with "Astrology Explained". The chart layout made it so easy for me to calculate my chart as well as others. The results from understanding and utilizing my zodiac code and my kids' codes... lost for words and amazed! Thank you, Thank you!
How to Read Natal Charts Easily and Effectively: Understanding your birth chart in your own language (Alchemy University: Astrology)
Exceptional
This is the most comprehensive easy to innerstand astrology book I've come across and I highly recommend it. Amazing job and I truly appreciate the passion and details put into this short but easy to follow material thank you!
Natal Chart Learning Made Easy!
Kyree does an excellent job at breaking down astrology in a way that anyone can learn it. I have read some astrology books and have always walked away confused. This books lays things out in an easy to understand method!